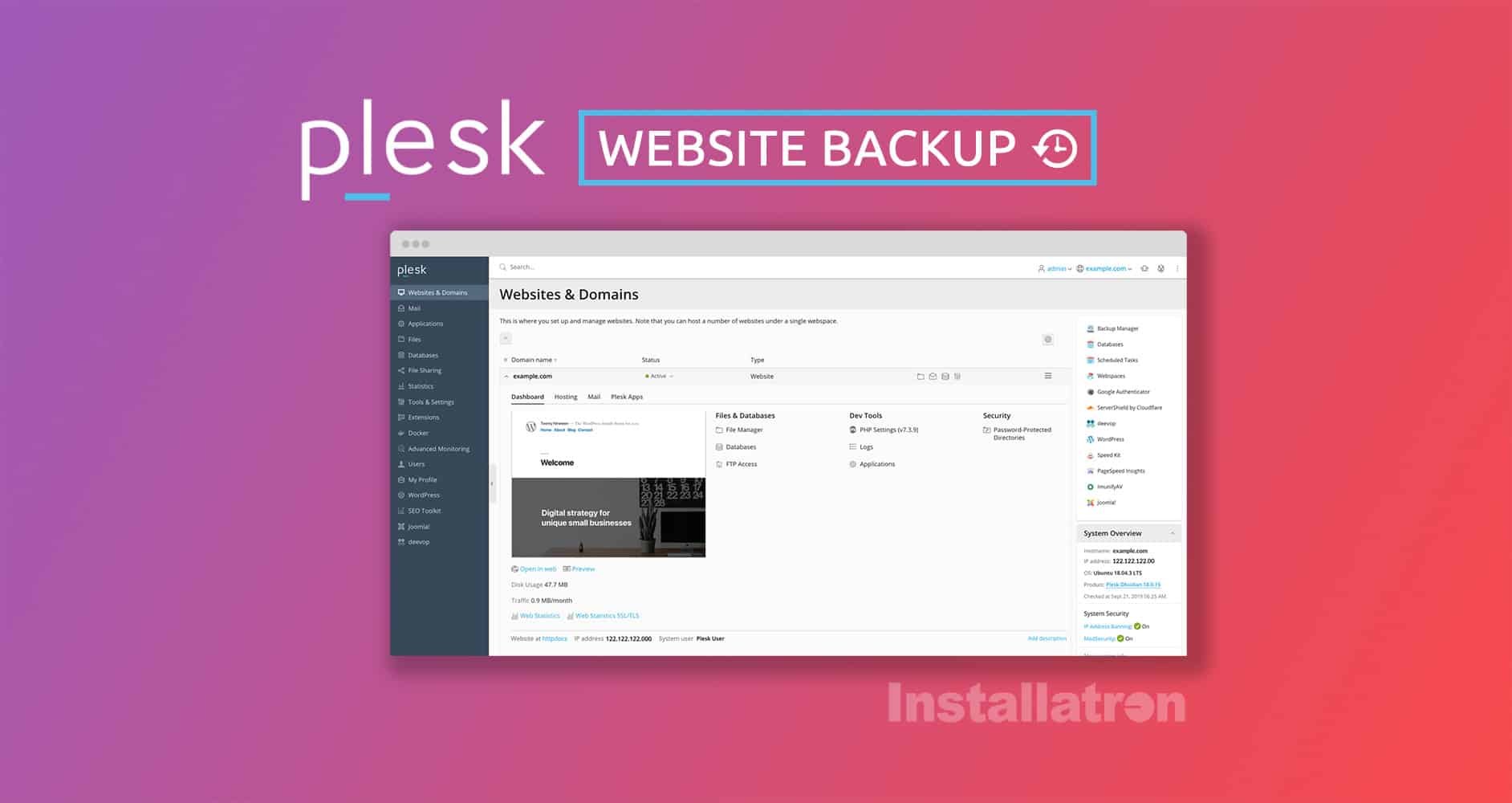 How to backup your website
With our Plesk and Installatron (1-click web apps) optimized hosting services, there are two built-in methods you may use to back up your website: Plesk Backup Manager and 1-click web app Backups.
Due to great improvements introduced with Plesk's Backup Manager in Onyx (version 17 and newer), we recommend using the Plesk Backup Manager as your primary backup solution. Read on for more details on optimal configurations.
Tip: we take daily disaster recovery backups that are completely separate from both backup tools described in this article, however as described in section 10 of our terms of service we are not liable for your data. Anyone hosted with us can request a restore from our disaster recovery backups, however there is a fee for those that do not have a Hands-On Support subscription and restores may take up to 24 hours to complete. Because of these limitations, we strongly recommend also setting up a Plesk Backup so you have backups you can access yourself, whenever you need them.
Configuring Plesk Backup Manager
Here's how to use the Plesk Backup Manager to back up your website (files & databases), emails, and Plesk configuration all in one.
To get started, Log in to Plesk
Once in Plesk, select "Backup Manager" – this is found in the upper right corner. TIP: if you have your own VPS and want to backup the whole server, please go to Tools & Settings > Backup Manager and configure these backup settings there.
Choosing to backup to a cloud storage provider is strongly recommended to ensure you have an off-site backup of your websites and emails. This is done by selecting "Remote Storage Settings". Here you can choose to backup to an FTPS server, Dropbox, Google Drive, or Amazon S3. Simply click on the service you wish to use to configure the connection from Plesk.
If you wish to backup right now, choose the "Backup" button. If you wish to set a schedule, choose "Schedule"
Options as Follows:

[Schedule Only] Choose the option to "Activate this backup task"
[Schedule Only] If you are backing up to remote storage, you can choose the schedule of your choice. If you're backing up to local storage we recommend a schedule like this:

Weekly Incremental (choose a random day of the week) at a time between 10pm and 4am.
Full Monthly kept for 1 month

Back Up: allows you to choose what you wish to backup. Files and Databases refers to all websites within the subscription, including WordPress apps.
Store in: to avoid situations where local backups can use up all of your available storage and cause problems with your website, we recommend choosing "Remote Storage" then selecting whichever remote storage option you set up earlier in this guide.
Type: it's strongly recommended to enable incremental backups to save on disk space
Multivolume: it's best to enable the option "Create a multivolume backup, volume size (MB)" if you will be backing up to an FTP server. The default of 2047 should work fine.

Exclude options:

Exclude log files: it is recommended to check this box.
Exclude specific files from the backup: it is recommended to check this box, then supply the following path (if it's not already there):

Click OK or Apply to save your changes. All set!
Incremental backups mean that Plesk will take one large complete backup of everything you specified on the first run, then each of the next backups will contain only the changed files between when the complete backup was taken and now. This way each of your backups don't need to fully duplicate all of the data, saving you disk space.
1-Click Web Apps Backups
Advantage: simple singular web app backup and restore
To get started, Log in to Plesk
Once in Plesk, select "1-click web apps" – this is found in the upper right corner in Plesk 12.5.
Find the app you wish to backup in the list. If you have an app installed, but it's not showing here, you can import your app. Look for the controls in the upper right (a few buttons that allow you to interact with the app).
Backup Now: If you wish to make a backup now, click the second button, which has an arrow pointing to the right, and you'll be all set!
Scheduling: If you wish to schedule backups, click the icon with the wrench.

Scroll to the section entitled "Default Backup Location" and choose your preferred 3rd party cloud storage provider. You may choose local storage to save backups locally or off-server storage to save backups to the Websavers backup cluster. Please note that each of these storage options (except your own cloud storage) have quotas which are limited as described below under the Backup Quotas section.
Scroll to the bottom section entitled "Automatic Backup" and select the schedule you prefer. The numbers indicated here refer to how many backups to keep for that interval, not how many backups to create in that given interval. For example, 3 daily backups means to store one backup per day for 3 days, and not 3 backups per day.

Click Save All. That's it! If you opted to use a cloud storage provider for backups, you will now be prompted to log in to the cloud storage provider so as to allow 1-click web apps access to store its backups there. Follow the prompts to complete the configuration.
---
---
Backup Best Practices & Tips
1-click backup quotas
On shared servers 1-click web apps has the following quotas:
Local storage: maximum 1GB.
Off-Server storage: maximum 2 backups per application (regardless of size)
Cloud Storage: the maximum capacity of your cloud service (like OneDrive or Dropbox) with no limits on # of backups.
As a result of this, off-server or cloud storage option is strongly recommended.
Plesk VPS Users: If you have your own VPS, quotas will not be automatically applied (though you certainly may configure them in the Installatron settings) so keep an eye on your backup storage!
Picking one backup solution is generally best
When it comes to scheduling backups, it is strongly recommended to choose only one of the above two backup options.
If you're not yet sure which to choose, we recommend creating a scheduled Plesk backup schedule that's configured to store your backups in any of the available cloud storage services that it supports.
Avoid using other backup software
Anything that runs within your provided web hosting space (like a WordPress plugin) is inherently limited by the resources applied to your hosting account as a whole, such as timeouts and memory limitations, and will likely not function as reliably as the tools described above, which operate at the server-level: independent from your web hosting resources.
If you've got a backup plugin that you like and you're confident works well, feel free to continue using it as long as it's configured to backup to an external storage location like an FTP server or cloud service like DropBox. However, note that because we already supply multiple methods of backing up your website, we can not supply support for 3rd party backup utilities. The plugin's developer is your only avenue for support.
Using a 3rd party backup service that creates backup files *within your web hosting storage* is not permitted and we reserve the right to remove your backup files and any plugins generating those backup files at any time.
If you still wish to use a 3rd party backup service, despite the warnings above, be sure to disable 1-click web apps and Plesk backups.