How to use the new Staging Site feature in 1-Click Web Apps / Installatron
Our 1-Click Web Apps (Installatron) has recently updated to include an exciting new "Staging Site" feature. This will let you sync changes back and forth between your dev / live sites without the need to uninstall and clone.
To begin, let's create our staging site.
First, create a subdomain (in our example we're using "dev.websaversdemo.com"
Next, use 1-Click Web Apps to clone the site:
Select the subdomain, click the checkbox for a staging site, and proceed:
Once the cloning process is done, you'll see that the background of it in 1-Click Web Apps looks different to indicate it's a staging site.
Now you're ready to make your changes to the staging site, do all the development you need, etc.
Go ahead and do that; I'll wait here.
---
Okay, so now that you've made those changes and you're ready to sync back to your live site, click on the wrench icon in 1-Click Web Apps for the live site.
Then click on the Sync icon that shows up in the next screen.
In the following screen you'll be able to select which tables you do and do not want to overwrite on the live site. This can be crucial for sites with a lot of comments, or other live data that should not be overwritten. CHOOSE CAREFULLY which tables you select/deselect here.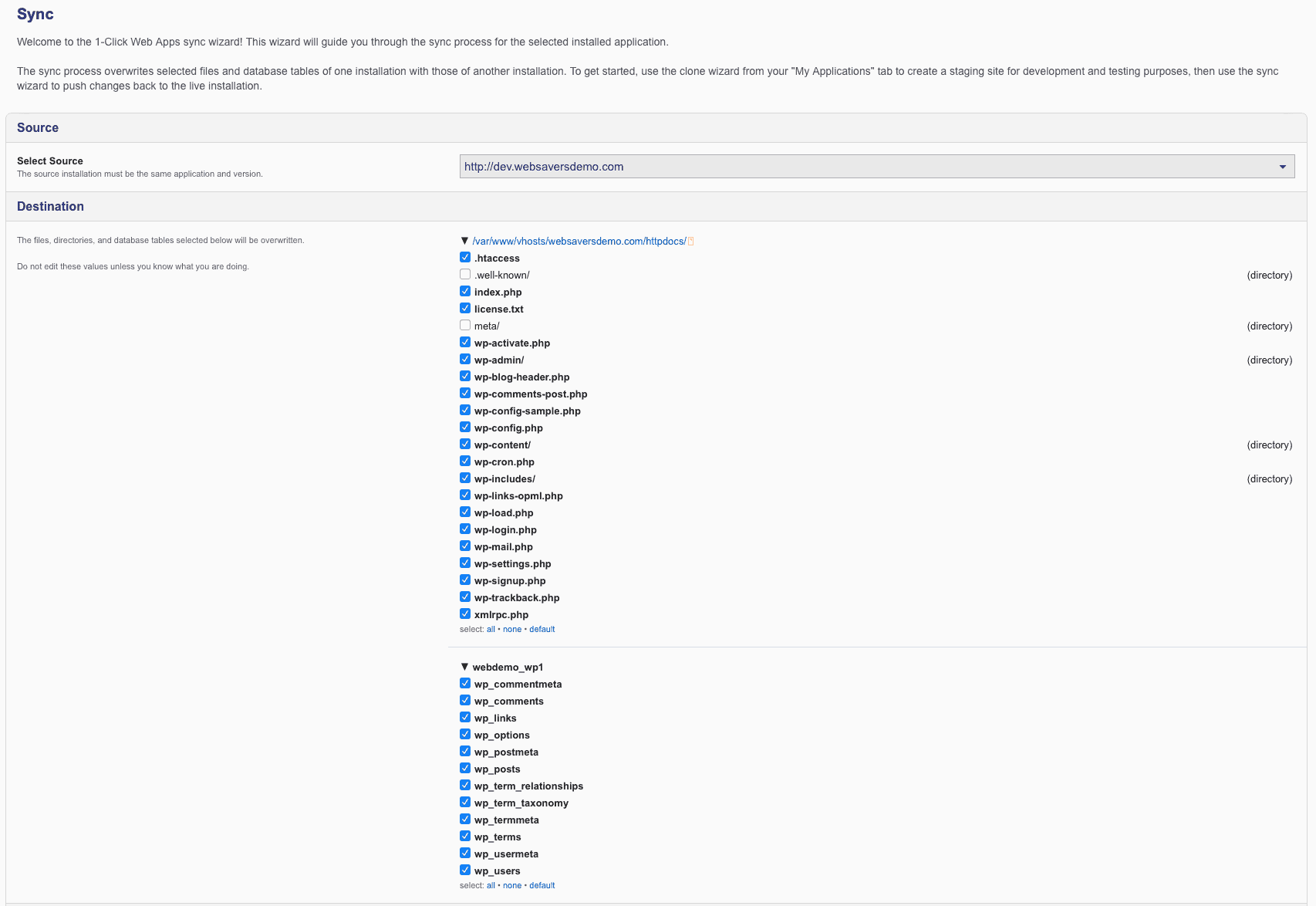 In our example we're going to deselect the wp_comments and wp_commentsmeta tables, as if we had an active userbase who were commenting on all the posts on our demo site.
Then at the bottom of the screen you should leave the option to make a backup before syncing, and finally click the Sync button.
And you're done!