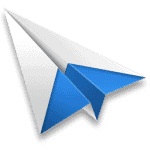 Tired of Apple's Mail.app? Try Sparrow!
Apple's Mail application is a simple and powerful method of managing your mail, whether it be custom hosted, Gmail, Yahoo, or just about any other mail provider. However, if you're getting a bit sick of the same old two or three pane mail application, you must check out Sparrow.
Sparrow is available on the Mac App store for $9.99 [App Store Link] or for free with ads [App Store Link]. It boasts a minimal interface, with gorgeous animations and excellent OS integration. For more details on Sparrow, check out their website for a full feature listing and a handy little video describing how it works.
Now to the meat and potatoes; how to set up your Web Savers account in Sparrow. Thankfully the Sparrow folks have made this as simple as it gets. Three steps and you're off to the races! Start by launching the Sparrow app from your dock. If this is your first time launching Sparrow, it should prompt you to set up your account automatically, if not, go to the Sparrow menu (upper left corner) and choose Preferences. Go to the Accounts tab and choose the + in the lower right hand corner.
The first step is to provide your account details. Enter your name, your full email address and your password, as you configured it in Plesk.
Next, enter your incoming server info. This will be in the format mail.yourdomain.com. As an example, the screenshot shows mail.websavers.ca since the email address we're setting up is an @websavers.ca address. If your address were john@johnsmith.com, then you would enter mail.johnsmith.com. Provide your full email address as the Login and enter your Password. Everything else can remain at the default.
Finally, provide your outgoing server info. This is identical to the previous step. The SMTP server is mail.yourdomain.com and your Login is your full email address.
Choose the Next button and Sparrow will add the account and begin downloading any existing emails. You're all set! Try out sending and receiving emails and be sure to open a support ticket if you run into any problems.
Use another mail app? Ask us if we'll consider a guide for your mail app of choice in the comments below.