Top 5 Must Have WordPress Plugins
This article is an update to one we wrote almost seven years ago: Top 9 Must Have WordPress Plugins. In that time a lot has changed in both the WordPress world and in the tools we use to create sites. Since we often make use of both paid and free plugins and yet it's not always clear which is the best option to use among many in each category, I thought we'd include a 'best-of-the-best' for both paid and free options. For each paid plugin, you'll see a free 'equivalent' with some of the shortcomings of choosing the free option over the paid one. Enjoy!
Top Paid WordPress Plugins
BeaverBuilder
We use Beaver Builder for just about everything now. We originally built the majority of our sites with Canvas by WooThemes, but with WooThemes being purchased by Automatic (and turning the focus to WooCommerce), Canvas fell by the wayside. We researched for months to find the best replacement. We wanted it to provide us with both a solid blank theme to build upon as well as a solid way of building page structure, including rows, columns, and modern features like parallax background images.
Beaver Builder: The Ultimate WordPress Page Builder
The best part about Beaver Builder is that it's super-high performance and balances developer functionality with ease-of-use for end-user clients. They love being able to edit a page simply by clicking directly on the area they wish to adjust and not having to see endless shortcodes or figure out how the back-end corresponds with the front-end of the site.
The most common free page builder might be the one by SiteOrigin. The most commonly recognized one might be WPBakery (Visual Composer). Neither of them come close to comparing to the power of Beaver Builder. You can get started with Beaver Builder by using their free "Lite" version, however it's very limited and we strongly recommend purchasing the full version.
Check out Beaver Builder on our Recommended Resources page.
WP Rocket + Imagify
We absolutely love WP Rocket. I started in WordPress performance optimization using WP Super Cache, which does an admirable job of basic static file output. However I quickly wanted more power from a site optimizing plugin. I wanted features like the ability to handle automatic adjustment of output of Javascript and CSS files so they would load in the footer, among other advanced functionality that WP Super Cache wasn't handling for me.
Enter WP Rocket. We love it because you can get impressive performance improvements simply by checking the box to enable the plugin. And when we want more advanced config, it can help us make that happen too.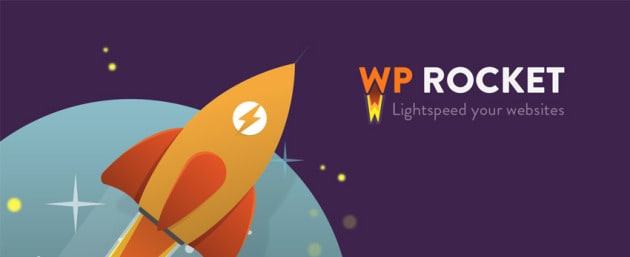 WP Rocket: Powerful WordPress Caching
Imagify enhances WP Rocket by allowing us to use WordPress to easily optimize or re-optimize our image files so we don't have to download them, optimize them, then re-upload them. This ensures you can eke out the most speed possible from every single page of your site.
Imagify comes with a free tier with a limited number of images you can optimize and of course you can use WP Super Cache for a free static file caching option. I strongly recommend starting with those if you don't want to invest in WP Rocket right off the bat.
We've also experimented with ShortPixel's image optimizer and found it to be an excellent alternative to Imagify. It's got a slightly less fancy UI, but some pretty neat power-features like the ability to re-optimize PNGs without transparent elements as JPEG files (meaning better compression in most cases) and the option to compress to WEBP format.
Check out WP Rocket and Imagify on our Recommended Resources page.
WP Forms
The easiest to use WordPress Form Builder.
You can indeed create simple forms for free with plugins like Contact Form 7. But if you want to build really long or advanced forms, go with WP Forms. Some serious time saving features of WP Forms are:
Once you build the form, you don't have to also build the email it sends you; WP Forms does this automatically! When you add a form field, it adds it to the email too. Neat stuff!
The builder is a visual drag'n'drop interface, so you don't have to learn shortcodes to figure out how to use it.
Yes, there are alternative plugins… many of them in fact. But WP Forms won for us because the visual editor is simpler to use than any other we'd worked with. Clients can edit their forms without having to learn a whole new language — that's a solid selling feature if you ask me!
As mentioned, you can alternatively use Contact Form 7 for much of this functionality, but you're going to spend 2-3x as long building your forms if you do so.
Top Free WordPress Plugins
Antispam Bee
It's great that WordPress comes with a method of blocking spam (Akismet) however Akismet gets costly when your site traffic increases. And sadly, that increased cost often does not correspond to revenues, so you end up with a bottom line that's increasing faster than sales: definitely not good.
Then we found Antispam Bee. It's spam protection does a fantastic job, catching about 90% of what Akismet does, but for $0. Can't go wrong with that!
Redirection by John Godley
Exactly as it sounds, this plugin provides a UI (Tools > Redirection) for you to easily apply redirect rules between pages on your site. It's really that simple! And redirects are super handy to have available within WordPress itself, especially when you're redesigning sites.
Yoast WordPress SEO
Years ago we switched from All in One SEO Pack to Yoast's WordPress SEO plugin. This was primarily because it came highly recommended by Moz, one of our favourite SEO software providers, but also because after trialling it for a few weeks, we quickly came to enjoy its simplicity and power.
Yoast's WordPress SEO plugin allows you easily set target search phrases for any given page or post, then will provide you with tips on how best to optimize the content of that page or post to get better rankings. You can, of course, set page titles and descriptions with this plugin. You can also globally control the output of the sitemap XML file, including hiding post types you don't require be publically visible to search engines.
It's also got built-in integration with Google Webmaster Tools, so you can see directly within the WordPress dashboard if your site is presenting any errors, like 404s, to Google's web crawler. This means you have the information you need to fix problems right at your fingertips, without having to login to third party resources.
Monster Insights for Google Analytics
Monster Insights's Google Analytics plugin is great. You can connect your site easily to Google Analytics and use their built in dashboard to keep watch of basic traffic stats — exactly what you want to see within WordPress.
It works and it works well.
SSL Insecure Content Fixer
Another simple plugin that helps immensely. When you go to enable SSL/HTTPS on your site, if you find you're seeing pages that are just refusing to give you the green bar, it's probably because you've got resources, like images, loading that have the absolute http:// URL in their address. Rather than manually adjusting each one throughout your site, this plugin can help by simply dynamically altering the output on every page of your site. It captures the http:// and replaces it with an https://. Neat huh?
Note: another plugin that does the very same thing is called "Really Simple SSL" and we use them both interchangeably.
---
Like our suggestions? Check out all of our recommended resources!